Explore the Monroe County Parks Series - Mendon Ponds Park
Submitted by

cdicaro

on Fri, 09/01/2017 - 8:08am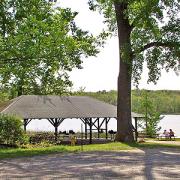 Hello Explorers!
We continue our Explore the Monroe County Parks Series! Today we explore Mendon Ponds Park, the largest Monroe County Park with 2,500 acres of woodlands, ponds, wetlands and glacially created landforms. In 1969, it was named to the National Registry of Natural Landmarks due to its geologic history and presence of significant kames, eskers, and kettles.
This distinct park offers six Lodges and seven Shelters, all available for rental. Mendon Ponds has many recreational areas; Sharon's Sensory Garden, Wild Wings, Inc., a Youth Camping area, and a car-top boat launch (non-motorized boats only).
Common Recreation Activities at Mendon Ponds Park
Biking (no off-road cycling permitted)
Birdwatching
Boating (non-motorized)  (Cartop boat launch & road to launch is open seasonally from May 1st until October 31st of each year)
Camping (For scout/youth groups and by reservation only)
Cross-Country Skiing (some groomed trails)
Fishing
Geo-caching (approximately 48 caches)
Hiking/Running (Before hiking the trails you should print the map. The color coded hiking trails and additional details will keep you on the right track.)
Horseback Riding
Kayaking/Canoeing  (Cartop boat launch & road to launch open from May 1st until October 31st of each year)
Lodges and Shelters for Rent
Multi-use Athletic Field
Orienteering
Playground
Rugby
Sensory Garden
Sledding (designated areas only)
Snowshoeing
Wild Wings, Inc
There is a car-top/non-motorized boat launch located off Douglas Rd., which can be used for all non-motorized boats and fishing is allowed in Mendon Ponds Park as long as those fishing are following NYS Department of Environmental Conservation guidelines and rules and have the required licenses. 
Like the other parks owned and operated by the Monroe County Parks Department, Mendon Ponds Park is open daily and has a Carry-in Carry-out rule, which means you must take all your garbage with you for disposal after leaving the park.  Also all pets must be leashed and you are responsible for cleaning up after them. 
Sharon's Sensory Garden
A Sensory Garden for Your Enjoyment
Throughout the United States, sensory gardens are being created to provide persons with disabilities a more suitable opportunity to enjoy nature and the outdoors.
Sharon's Sensory Garden is a unique sensory garden for people with visual or physical disabilities. The sensory garden has over 170 feet of plant exposure designed for visitors to touch, tear, and smell the plant life.
Sharon's Sensory Garden has a diverse selection of plants, highlighting color, texture, fragrances, and form. Flowerbeds are raised and pathways through the garden are properly graded for visitors in wheelchairs. Plant listings and labels are in Braille and raised lettering to help educate visitors.
Sharon's Sensory Garden is a wonderful addition to Mendon Ponds Park for everyone to enjoy. The experience of visiting the sensory garden will enhance your enjoyment of nature as well as your awareness of people with disabilities.
Sharon's Sensory Garden is located in Mendon Ponds Park (behind the Nature Center). For additional information, please call Mark Quinn at 585-753-7286
Wild Wings Inc.
Wild Wings is a not-for-profit educational organization that houses and cares for permanently injured, non-releasable birds of prey (raptors). Their mission is to teach environmental stewardship through programs featuring the resident raptors as our teaching partners. They perform demonstrations at schools, scout meetings, and many other corporate and private events. The resident raptors can be seen at the new facility at Mendon Ponds Park. They are open to the public every day (except Wednesdays & Thursdays) from 10 a.m. to 2 p.m. You can visit the Wild Wings web site or contact them at 585-334-7790
Download PARK MAP
Click to get detailed directions