Spend some time in the kitchen for a bonus code!
Submitted by

cdicaro

on Fri, 07/21/2017 - 5:01pm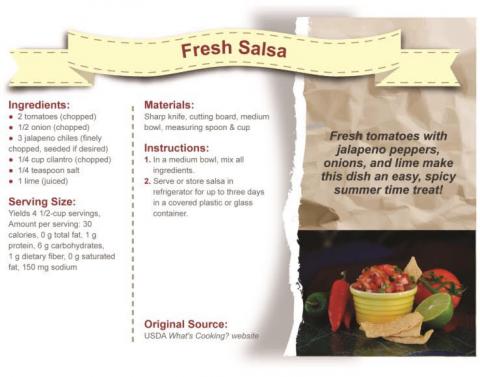 Hello, Explorers!  We have a new yummy challenge! Every month we will feature a healthy and easy-to-make recipe brought to us from Finger Lakes Eat Smart New York and Cornell University Cooperative Extension.  
This month we have a great fresh salsa recipe to share with you!  
The ingredients can be found at your local market, store or pantry. And the best part – it's tomato season so you can get farm-fresh tomatoes along with other healthy produce straight from local farmers. For a list of local farm markets visit, www.monroecc.edu/depts/agriculture/buy-local/grow-monroe-farms-and-markets/ 
We encourage you to spend time with your friends and families making and enjoying this recipe. Don't forget to send us a photo of your salsa using the submit photo section of your explorer page.  If you send us a photo, we will send you a special July Recipe Code as a reward!  
Enjoy!